MobileHomeParkConsultants.com
ABOUT US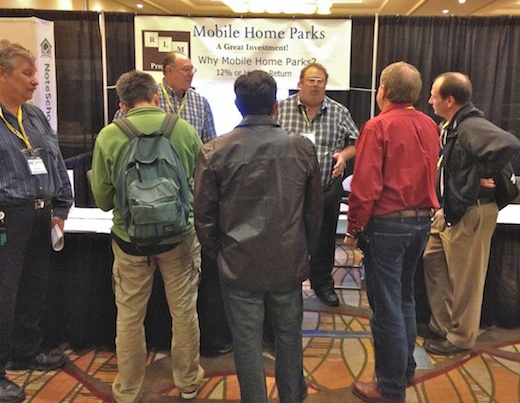 ABOUT US: Above, Mobile Home Park Consultants at the recent REI (Real Estate Investment) Expo in Anaheim CA. We had a booth there, and we conducted a one-hour seminar on the subject of Making Money with Mobile Home Parks.
ABOUT US - WHAT WE DO
CCI Investments, LLC is the parent company of Mobile Home Park Consultants. We are a nationwide consulting firm specializing in Mobile Home Parks. Finding the right park for their clients, conducting the due diligence, and coming up with a plan for the operation, and sometimes turn-around of the park, is just where the job starts for MHP Consultants. After the purchase, we provide training for the onsite staff, establish procedures and ongoing operations, set up a cohesive bookkeeping system, and work to reduce operating expenses at every turn. But again, this is just the beginning of the story.
ABOUT US - SPECIALIZING IN 'TURN-AROUNDS'
Because many of the Mobile Home Parks that we work on are indeed "turn-around projects", and these need to be handled just right, by a steady hand, and one with experience. MHP Consultants sets up a complete program for the park's turn-around, and oversees every aspect of it, from fixing up existing units in the park, to buying new ones, or sometimes inexpensive used ones (every case is different, of course), to fill up the park (try adding units to an apartment building), raising the rents, improving the image of the parks and more.
For more info call
(209) 996-4075 or EMAIL US
.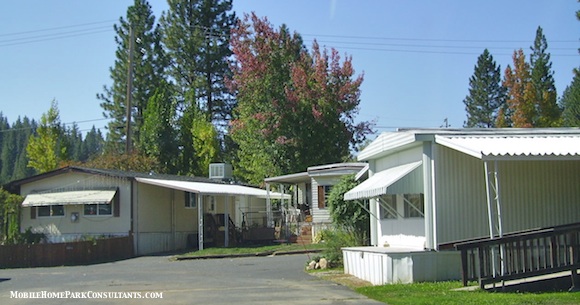 ABOUT US - WE NEVER GET IN FRONT OF A CLIENT
Having had our hands in well over 100 Mobile Home Parks over the years, we've seen it all and done it all, for ourselves and our clients. Because we principals at Mobile Home Park Consultants also own Mobile Home Parks ourselves. But MHP Consultants' founder, Robert Merchant, hastens to mention that "we never get in front of a client". In this business, it's a very common practice for agents to keep all the best deals for themselves, and only show their clients the leftovers. At MHP Consultants, the client comes first. Our full stable of clients get first shot at every park that comes across our desks (that fits the clients' criteria, of course). Then, if no one else wants it, one of us might pick it up for our own portfolio. "So, now we're the ones who get the left overs. Our clients get all the good stuff," says Merchant jokingly. But it's true.
ABOUT US - WHY MOBILE HOME PARKS?
But why Mobile Home Parks? Because through the highs and lows of these last few years, they've remained relatively stable, having held their values pretty well in the crash and offering some of the highest returns available, compared to any other type of investment real estate, or any other type of investment in general, for that matter. Mobile Home Parks are proven cash flow machines. They cost less to operate, they have lower turnover, they cost less to maintain and insure, and they're easier to manage that most other types of real estate that would produce similar net incomes. The real 'trick' to Mobile Home Parks is that their market value is based more upon their Net Operating Income that on any other type of real estate. Because there are so few improvements when compared to apartment buildings, shopping centers, etc., (some Mobile Home Parks are little more than just land with some underground utilities, and a bunch of mobile homes sitting on top), the buyer isn't paying for expensive buildings as part of the purchase. With so much of the value weighted on how much the park makes, it's easier to affect the value. In other words, increase the net income, and you increase the value. And there are more ways of doing that with Mobile Home Parks than with just about any other type of investment also. Maximizing that Net Income, and thus the property's value is a big part of the Mobile Home Park Consultants' job.
For more info call
(209) 996-4075 or EMAIL US
.
ABOUT US - INVESTORS TURN TO MOBILE HOME PARKS
Lately, MHP Consultants has been seeing an increasing number of investors selling out of apartments, commercial, retail, and residential, and putting all their money into Mobile Home Parks. And many investors who already own Mobile Home Parks, along with other types of investments, often liquidate their low-performance assets, but keep their Mobile Home Parks, because their parks are the one investment class that throws off the best cash flow. Combined, these factors have had a mixed impact on the market, because it is starting to create a shortage in the supply of good parks.
ABOUT US - ONLY THE RIGHT MOBILE HOME PARK WILL DO
Mobile Home Parks have more positive attributes than can be elaborated upon here. And savvy investors have started figuring this out. Where 5 years ago, some investors looked down their noses at Mobile Home Parks, today they're flocking to them. Of course, not just any Mobile Home Park will do. Like any other type of investment, buying the right property is of paramount importance. But then, finding the right park is where the service starts with the Mobile Home Park Consultants.
ABOUT US - IT'S ALL ABOUT THE OPERATIONS
Make no mistake about it, as important as it is to start with the right Mobile Home Park, it is perhaps even more important to have a good Operational Plan. In other words, one can buy the finest MHP on the market, but run it poorly and it won't do very well. Conversely, one could start with a 'marginal' park, but run it extremely well, and it will make good money. MHP Consultants specializes in drafting and implementing MHP Operational Plans that work. But we don't just write the plan, we work the plan, so that you don't have to. We oversee every aspect of the operation of your MHP, with the goal of maximizing its Cash Flow, and with it, its Value.
---
If you have questions about your MHP
or you're thinking of buying or selling a MHP, call
CCI Investments, LLC
THE MOBILE HOME PARK CONSULTANTS
at (209) 996-4075 or 
EMAIL US
.
---
NATIONWIDE MOBILE HOME PARK CONSULTANTS
As professional Mobile Home Park Consultants, what we do for you is help you locate a suitable property, conduct the due diligence, create a plan for the operation and/or turn-around of the park, the implement the plan. Our professional consulting services go beyond simple property management. We hire, train and supervise the onsite Manager and other staff, we oversee the collection and deposit of rents, we pay the bills, keep the books, problem-solve, evict problem-tenants as needed, fill vacancies, and much, much more. On turn-around projects, our services include overseeing all repairs, improvements, purchases of new homes, etc. The bottom line for the investor is this: with excellent professional consultants overseeing all aspects of your park's operation and management, it is possible to maximize your returns and avoid headaches and costly mistakes.
And on the subject of costly mistakes, we often receive calls from MHP owners who are having problems with a park they already own. They retain us to turn those parks around, get them in shape, and often ready to sell. So we have a rich source of Mobile Home Parks to show our clients that have good records (we keep the books), a manager that we know and trust (we probably trained him), without the hidden problems that come with buying an unknown property. These parks are not on the market. But in many cases the sellers will sell them. Call us today at
(209) 996-4075
or
EMAIL US
, to get more info on some of the parks we're doing right now.
We also offer our clients a 'mentoring program', where we will teach the park owner just what we do so that they can do it for themselves someday, if they so choose. Most don't, because it makes more sense to have us do it for them. Call us to get all the facts on our mentoring program, and all our MHP Consulting Services.
---
HOME PAGE
About Us
Contact Us
Mobile Home Parks FOR SALE
Mobile Home Park MANAGEMENT
Mobile Home Park Investment EVENTS
REI Expo-Dallas 2014
---
If you need help with a Mobile Home Park, or want to buy or sell one, call
The MOBILE HOME PARK CONSULTANTS
(209) 996-4075
or EMAIL US